24 April, 12.34pm pdt
Pictures From BeDC

BE DOPE NEWS (BDN) Be Dope covert cameras captured exclusive photos at this year's Be Developer's Conference. Check out the BeDC 1999 Photo Album for more.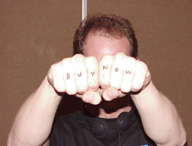 New Stories
New stories by the author of Be Dope can be found at Segfault.org
e Villa Celebration
Did you know all of Be Dope's e Villa stories are available via one handy page?
Be Dope Merchandise


These remaining tshirts are sure to be a collector's item someday. Buy now.