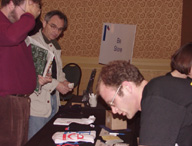 Be, Inc. CEO Jean-Louis Gassée helps a BeDC attendee (who realizes he left his wallet in "his other pants") buy a tshirt.
---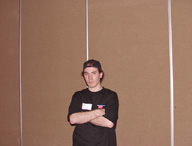 This menacing Be employee guarded the entrance to the BeDC.
---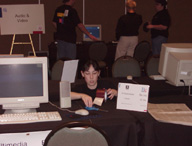 As with all things good, the BeDC was held together by duct tape.
---

In a moment of stunning embarrassment, Chris Herborth realizes this was a "black shirt" affair.
---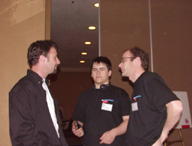 Last minute rehersal for Be VP Tim Self (left) who will lip sync his presentation to the tape controlled by Be employees.
---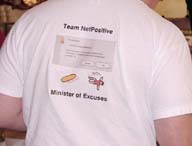 Be's Rapid Tshirt Deployment System® allows Be engineers to dress appropriately for any event.
---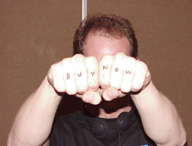 Be will launch it's new advertising campaing this summer with this tagline; all employees bore these mandatory tatoos.
---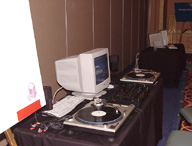 A protoype BeOS machine that replaces the mouse and keyboard with old turntables.
---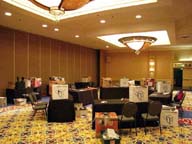 The Developer Lab ten minutes before it opened.
---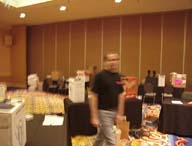 A Be employee uses the BeOS to control The Matrix, allowing for a quick setup.
---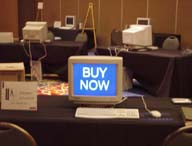 With shutter speed set at 1/500th of a second, a Be Dope camera captures the subliminal message flashed to all BeDC attendees.
---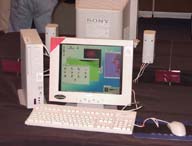 Hitachi's BeOS machine complete with TFT screen. We'd love to see one of these in the Be Dope offices. Hello, anyone from Hitachi listening?
---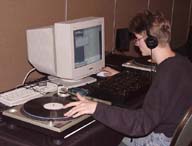 Final Scratch show with its optional human component.
---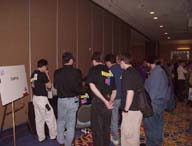 Games are a type of Media, right?
---

Rumor has it this dedicated developer was assaulted by Microsoft employees outside the hotel. Even a side trip to the emergency room didn't keep him from the conference.
---

Some of the complimentary cake. We would have taken a picture of the free beer as well, but it was gone too quickly (luckily, this was a beer cake).
---