28 August, 8.39am pdt
Teletubbies Powered By BeOS

BE DOPE NEWS (BDN) A series of photos suggests that the Teletubbies, stars of the UK's newest and most popular childrens' television series, are built with the BeOS.

This grainy photo was taken during a break at a recent Teletubbies taping: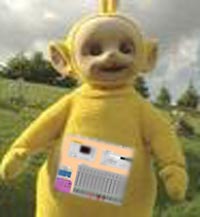 [click image for close-up view]


"This does not come as a shock to anyone in the Teletubbies community," said famed Teletubbologist Dr. Rembert Herbert. "The Teletubbies are inherently multi-media creatures, with a great sense of play. The match with the BeOS is a natural one."

"Young children have no pre-conceived notions of which operating system certain large corporations feel should dominate the world," said Teletubbies creator Anne Wood. "Unlike many adults who stick to their 'favorite' operating system with a blind religious fanaticism not seen since the Crusades, children are open to the idea that some tools are better for some jobs than others."

Be, Inc. CEO Jean-Louis Gassée is said to keep several prototype Teletubbies around Be headquarters to keep things interesting, and is considering adapting them into some kind of BeOS consumer portable.

"If the Teletubbies were running under Windows, I'm sure children would be put to sleep by any 'antics' they could come up with," Wood added.

New Stories
New stories by the author of Be Dope can be found at Segfault.org
e Villa Celebration
Did you know all of Be Dope's e Villa stories are available via one handy page?
Be Dope Merchandise


These remaining tshirts are sure to be a collector's item someday. Buy now.