14 October, 6.05pm pdt
New BeOS Commercial Stars Robin Williams

BE DOPE NEWS (BDN) According to sources inside Be, Inc. headquarters, shooting has just wrapped up on the first-ever Be television commercial. The commercial stars Robin Williams, and focuses on how the BeOS keeps pace with demanding, rapidly changing work conditions.

According to Be executives, Williams frenetic pace is the perfect match for the speed and responsiveness of the BeOS.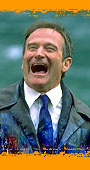 In the commercial, Williams edits movie clips, reads email, surfs the web, writes chapters of his new book and dabbles in digital painting. Although he switches between tasks in a rapid and seemingly random fashion, the BeOS has no trouble keeping up with his trademark stream-of-conciousness manner.
The normally computer-phobic Williams has adopted the BeOS commenting that it's the first computer that didn't "crash, freeze, bluescreen, bomb or meltdown after working with it for ten minutes".
The BeOS played a major role in the production of Williams' latest film, What Dreams May Come, from the astounding special effects to the character of "Tracker".

New Stories
New stories by the author of Be Dope can be found at Segfault.org
e Villa Celebration
Did you know all of Be Dope's e Villa stories are available via one handy page?
Be Dope Merchandise


These remaining tshirts are sure to be a collector's item someday. Buy now.