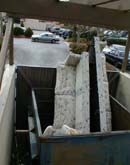 BE DOPE NEWS (BDN) It was a dark day on the Be campus today as Be's historic lunchroom couches hurled themselves from the roof, in an attempt to end their very existence.
"It is a shame it had to end like this," said Be, Inc. CEO Jean-Louis Gassée. "I blame myself."
The history of the couches dates back nearly ten years, to the very birth of Be, Inc. Gassée purchased them second-hand for a mere US$10.00, setting a precedent for wise allocation of shareholder funds. They were put to work in the Be lunch area immediately, tirelessly supporting hordes of engineers as they ate, drank, slept and argued about the BeBox and the BeOS.
"We had already seen a pretty full life before Gassée adopted us," said one couch. "We came from a living room of a family with three children and two dogs. But little did we know that was a cushy gig compared with what was to come."
For years, the couches endured being sat on, stepped on, spilled on and slept on. Couch #2 recalls some days drove him to the edge.
"There was that one guy that always drooled on me when he slept. Ugh. Plus all those spills and food particles - I feel like I've gained at least twenty pounds."
Still, the couches took pride in their achievements.
"It was hard work [at Be] but worth it. We knew we had helped make a difference," agreed the couches.
The couches felt they had lived a full life, and were prepared to return to sawdust and scattered to the winds after Be replaced them with spiffy new futons.
Then they heard they were going to be auctioned off on eBay.
"The mere thought of starting over in another geek environment was just unbearable," explained the couch.
At lunchtime today, as Be employees mingled in the lunchroom, the couches skulked silently towards the stairwell for their final exit. Pulling their creaking springs and cracking frames up to the roof, they hesitated only a moment before hurling themsleves towards the pavement, scattering cookie crumbs and stuffing as they landed four stories below with a sound of twisting, tortured metal. With their few remaining ergs of energy, they began to drag themsleves across the Be parking lot towards the dumpsters on the far side, leaving a trail of splinters.
At first bystanders took little notice.
"We see things come flying off that roof all the time. But usually, they burst into flame on impact. This was something different," said one witness.
Concerned citizens alerted Be staff, who rushed to the scene. Realizing they had expected too much of the couches by preparing them for auction after years of tireless, faithful service, they did the honorable thing, and somberly assisted the struggling couches into the dumpster (California is one of they few states with no laws against furniture euthanasia).
And added to the well-aged stains of drool, Mountain Dew and pizza grease were the fresh tearstains of grateful Be engineers.
This reporter likes to believe the couches didn't mind.