9 January, 2001 11:31am pst | Snowdrift Edition
Be Brand Recognition Skyrockets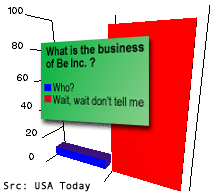 BE DOPE NEWS (BDN) With the release of the Sony e Villa, awareness of Be Inc. and BeIA has "skyrocketed" according to to a series of polls conducted by USA Today. Whereas the most common response to the question "What is the business of Be Inc.?" used to be "Who?", since the announcement of the e Villa this week the response has been a resounding "Wait, wait, don't tell me..."
"I've never seen a company rise from virtual obscurity to the edge of the public consciousness this dramatically," gushed USA Today Poll Analyst Kris Bergenson. "If this trend continues, we could see a response of 'something to do with technology, right?' by week's end."
Similiar polls were conducted with the Be logo. Be officials were reportedly pleased with responses such as "I guess it could be an ear," "well, when you point it out like that I can see an eye," and "hmmm". Previous responses included "Egyptian heiroglyphic," "upside-down snake" and "uterus".
"We are certainly enjoying the benefits of this near-recognition," enthused Lamar Potts, Be Inc. VP of Sales and Marketing. "For example, when wearing my Be logo shirt, I'm no longer asked which fraternity I'm pledging, or what religion I'm promoting."
Although encouraged, Be officials recognized there is still much work to be done. In another USA Today poll, 37% of poll-takers believed "BeIA" was some sort of insect blight, while the remaining 73% thought it was a division of the U.S. Forestry Service.

New Stories
New stories by the author of Be Dope can be found at Segfault.org
e Villa Celebration
Did you know all of Be Dope's e Villa stories are available via one handy page?
Be Dope Merchandise


These remaining tshirts are sure to be a collector's item someday. Buy now.