7 November, 2000 10:01am pdt | Vote Edition
Be Vagueness Irks Community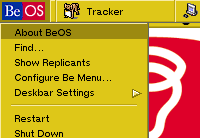 BE DOPE NEWS (BDN) The community of users surrounding BeOS rarely complain or raise a fuss. But lately, the issue of Be's communication with the outside world has been politely raised in several forums. The focus of the complaint is Be's shift from a "hang-lose, tell-all" style communication to one of frustrating vagueness.
"Before the focus shift and going public, you used to be able to dial any random number at Be and ask whoever answered what they were working on," remembered one community member. "Be employees would send messages, or at least drop very obvious hints, via websites mailing lists and codycam. Now it's like they're a subsidiary of the CIA."
Be Dope contacted Be for their official comment on these accusations of increased vagueness.
"Interjection! Pronoun verb adverb noun conjunction verb adjective noun," said someone from Be. "Verb noun preposition month year, adverb."

New Stories
New stories by the author of Be Dope can be found at Segfault.org
e Villa Celebration
Did you know all of Be Dope's e Villa stories are available via one handy page?
Be Dope Merchandise


These remaining tshirts are sure to be a collector's item someday. Buy now.