4 August, 2000 3.03pm pdt | Crab Edition
Be Engineers Forced Offsite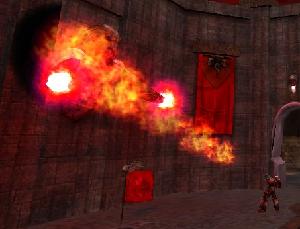 BE DOPE NEWS (BDN) According to sources inside Be, Inc. the team of Be engineers working on OpenGL were forced to move offsite after several dangerous incidents, including wayward grenades, massive geometric distortion of reality and triangle dropping.
"We first put them into a specially reinforced office, but the sheer processing power of the 3dfx cards alone caused alarming geometric distortions of local space, possibly even time," said the source.
Presumabley, these distortions were responsible for a series of explosions in the lobby of Charles Schwab, who lease office space from Be. Authorities claim the mysterious explosions were "caused by what appears to be Quake III grenades".
Along with the grenades, dropping triangles have threatened to drive a wedge between Be employees and Schwab employees, thus giving further justification for an off site move.
"A highly controlled environment is required for the writing of such tight assembly. The smallest perterbation or insertion of opcodes can cause slowdowns in the GL pipeline, leading to dropping of triangles," explained our source.
No comment was made on the new offsite location, but there is speculation the engineers are headed for the Black Rock Desert, where there is no danger anyone will notice reality distortion for at least the next couple of months.
Be Dope thanks the Be engineers who contributed to this report

New Stories
New stories by the author of Be Dope can be found at Segfault.org
e Villa Celebration
Did you know all of Be Dope's e Villa stories are available via one handy page?
Be Dope Merchandise


These remaining tshirts are sure to be a collector's item someday. Buy now.