20 June, 2000 10:45am pdt | Zero-g Edition
Be: Friend Of The Environment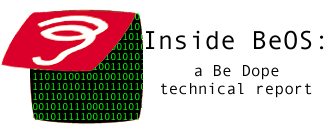 BE DOPE NEWS (BDN) Environmentalists praised Be, Inc. for an as yet experimental feature being worked into BeIA and BeOS: the ability to print the back side of webpages. According to independent studies, billions of web pages are wasted daily because until now there has been no way to read both sides of the page.
"If you look at how many web pages are downloaded every day, then think about halving that number - the potential savings are mind-boggling," said Dr. Laurie Donovan of the Endangered Electron Coalition (EEC).
The new technology requires the use of a special WebDuplexPrinter, which is able to detect and print not just the front, but the back, of all webpages.
"It's time for people to stop treating electrons as an inexaustable resource," Donovan implored. "By printing out all the web pages they visit so as to read both sides, instead of loading the backs onto the front of a new page, electron depletion will be halved, and the future of Spaceship Earth will look a little brighter."
Webmasters, too, have praised the new technology.
"I don't know how many times I've emailed site visitors, telling them the information they're looking for is right there on the back of our homepage, only to get a 'Huh?' in reply - it's quite frustrating," one frustrated webmaster said. "I hope the WebDuplexPrinter technology becomes widespread quickly."
[story continued on back]

New Stories
New stories by the author of Be Dope can be found at Segfault.org
e Villa Celebration
Did you know all of Be Dope's e Villa stories are available via one handy page?
Be Dope Merchandise


These remaining tshirts are sure to be a collector's item someday. Buy now.