4 April, 2000 10.45am pdt | Blues Edition
Be Brokers Domain Dispute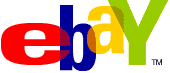 BE DOPE NEWS (BDN) Be, Inc. today began legal proceedings today against the online auction company Ebay, claiming their domain name, ebay.com, is simply a foreign language translation of Be, Inc.'s be.com domain name.
Be, Inc. claims the use of the "ebay" domain (which is merely a pig latin translation of "be") has the potential to cause confusion among web surfers looking for Be's site.
"Certainly among middle school children, where pig latin is practically a second language, the confusion caused among potential Be customers could be quite significant," said Be, Inc. legal counsel Dan Johnsten. "Not to mention parts of the world where pig latin is the native language, including Latvinia, Igpayatkia, and several smaller countries who couldn't afford to keep the rights to the Russian language after they broke away from the former Soviet Union."
Among the evidence rumored to be in Be's posession is an internal Ebay memo that cites a study that shows the subconscious connection between the concepts of advanced technology and sexiness of the Be, Inc. brand and the use of the "ebay" name.
Reportedly, the two companies are in settlement talks, attempting to reach an agreement that will allow Ebay to continue to use the domain name. In one alleged deal on the table, Be would trade the rights to ebay.com in exchange for a percentage of every Ebay auction transaction, special notification of any "really cool stuff" up for auction and the Saratoga residence of the Ebay CFO.
Rumors that the two companies would merge to form "Bebay.com" could not be confirmed at press time.

New Stories
New stories by the author of Be Dope can be found at Segfault.org
e Villa Celebration
Did you know all of Be Dope's e Villa stories are available via one handy page?
Be Dope Merchandise


These remaining tshirts are sure to be a collector's item someday. Buy now.