22 February, 2000 11.30am pst | Unrest Edition
Obtaining and Installing Be Dope Linux Version 27.1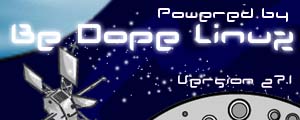 BE DOPE NEWS (BDN) Be Dope's corporate offices were flooded yesterday with calls and emails after the release of Be Dope Linux Version 27.1, the most advanced Linux on the market. Sysadmins, the press and wrong-number dialers wanted to know how to get their hands on it. In a press conference this morning, Be Dope officials revealed their patented "InstaMark" and "RetroFit" technologies, allowing users to obtain a copy of Be Dope Linux Version 27.1 within minutes, and even run your server with it - with no reinstallation necessary.
Be Dope officials demonstrated their InstaMark technology for a packed press room, following the steps listed in the InstaMark pamphlet:
0. Obtain a Linux CD from one of our strategic partners (e.g. RedHat, Debian, Corel). Normally you can find them scattered about a sysadmin's office, for free! (as in beer).
1. With a permanent marker, cross out all brand names, version numbers, etc.
2. With the same marker, write "Be Dope Linux Version 27.1" on the face of the CD. Be sure to indicate the presence of AVN (Advanced Version Numbering) technology!
3. That's it! You're now a proud Be Dope Linux Version 27.1 owner (and optioinal user). Welcome aboard!
Those who choose to actually install Be Dope Linux Version 27.1 as their web server should take care to find the exact Linux CDs they used during installation, and alter them as detailed above. For the final step, affix one of these graphics proudly to your website:



For an optimal installation link this image to http://bedope.com/stories/0089.html
Thanks to Be Dope's RetroFit technology, you are now officially running Be Dope Linux Version 27.1.
If you installed Linux directly from downloaded packages, you may safely skip the initial steps and go directly to adding the above logo to your website.

New Stories
New stories by the author of Be Dope can be found at Segfault.org
e Villa Celebration
Did you know all of Be Dope's e Villa stories are available via one handy page?
Be Dope Merchandise


These remaining tshirts are sure to be a collector's item someday. Buy now.