18 January, 2000 5.42am pst | Ripcord Edition
BeOS: Free Like Beer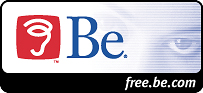 BE DOPE NEWS (BDN) Be, Inc. re-ignited a long-standing debate when they announced BeOS 5 will be "free". Soon folks were arguing about whether "free like beer" was any good compared to "free like speech". Be Dope researches composed a scientific test to answer this question once and for all.
Be Dope CTO, Dr. Doxie, took her staff to a local computer show armed with several kegs of beer and hundreds of copies of the First Amendment of the United States Constitution, which guarantees the right to free speech.
The results were surprising and conclusive.
"Fully 99 out of every hundred people chose Free Beer over Free Speech," reported Doxie. "In some cases, the subject would begin stressing the importance of free speech, but all the while they'd be eyeing the free beer. In most cases, the free beer won in the end."
"We spent many hours in the lab testing both beer and speech," said Sakoman. "Those who consumed free beer reported feeling satisfied and sometimes 'buzzed'," said Be, Inc. COO Steve Sakoman. "Those speaking free afterwards rarely reported any benefits, and in fact would sometimes complain of a dry mouth or scratchy throat."
Rumors suggest that along with offering BeOS 5 via free downloads and distribution parterns, selected cases and kegs of beer will include a free BeOS 5 CD.
"Mmmm beer," Sakoman added.

New Stories
New stories by the author of Be Dope can be found at Segfault.org
e Villa Celebration
Did you know all of Be Dope's e Villa stories are available via one handy page?
Be Dope Merchandise


These remaining tshirts are sure to be a collector's item someday. Buy now.