14 January, 2000 3.45pm pst | Yipple Edition
Thank You Mr. Gates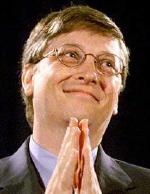 BE DOPE NEWS (BDN) It was recently annouced that Bill Gates would be stepping down as CEO of Microsoft. The staff of Be Dope would at this time like to extend a special thanks to Mr. Gates for all the stories he has inspired over the years.
"While our focus is on BeOS and we do not believe in 'Gates-bashing', sometimes Mr. Gates (and Microsoft under his direction) has provided material for stories that could not be ignored," said Be Dope CEO Mike Popovic.
This material has spawned a number of popular Be Dope stories, including Reality Distortion Field Fails in MSFT Defense, BeOS Spacecraft Mysteriously Destroyed, Gates Invited To Join Horsemen and others in the Be Dope story archive.
"We applaud Mr. Gates' sense of humor. We also look forward to the future actions and statements of Steve Ballmer and hope he continues Gates' policy of not suing our ass off," added Popovic.

New Stories
New stories by the author of Be Dope can be found at Segfault.org
e Villa Celebration
Did you know all of Be Dope's e Villa stories are available via one handy page?
Be Dope Merchandise


These remaining tshirts are sure to be a collector's item someday. Buy now.