13 January, 2000 2.00pm pst | Ponder Edition
Be Plans Realtime Code Updates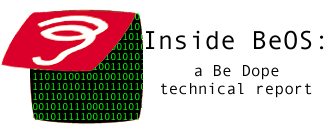 BE DOPE NEWS (BDN) Starting with the release of the next version of BeOS (codename: Maui), BeOS will be updated in realtime - changes approved and checked into the code tree will be instantly deployed to any machines running BeOS.
"No longer will we have to deal with lengthy downloads or physcial mailings when improvements to BeOS are available," said Be, Inc. CTO Steve Sakoman. "Plus, instead of saving up a bunch of fixes and new features to release all at once, BeOS will enjoy the latest technology on a realtime basis."
The R&D lab of Be, Inc. is to thank for this latest breakthrough. The method takes advantage of quantum physics and the simultaneous state theory of photons.
This announcement has settled the question of Maui's official version number. According to Sakoman, Maui will be titled "BeOS, Current" since it will always be up to date.
"We'll leave the legacy idea of 'versions' and 'version numbers' to others," added Sakoman.

New Stories
New stories by the author of Be Dope can be found at Segfault.org
e Villa Celebration
Did you know all of Be Dope's e Villa stories are available via one handy page?
Be Dope Merchandise


These remaining tshirts are sure to be a collector's item someday. Buy now.