13 December, 1999 1.17pm pst | Yoyodyne Edition
Maui, Codenames Explained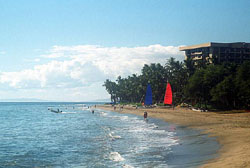 BE DOPE NEWS (BDN) Be Dope investigative reporters recently traveled to Maui, Hawaii, when it was discovered that thanks to an obscure clause in the standard Be engineer contract, Be employees have the option to develop and test BeOS in parts of the world related to location-based codenames.
"It's just not quite done yet," said Be QA Taskmaster Baron Arnold, sitting on a beach sipping a frosty blue drink of unknown composition while basking in the warm glow of a Hawaii sun-filled afternoon. Speaking over the sound of relaxing ocean surf he quoted Be's policy of not commenting on future release dates.
"We'll stay in Maui as long as necessary to be confident of the stability of this release," explained Arnold. "That's how dedicated we are."
Indeed, the entire day was dedicated to evaluationg how BeOS performed under tough sailing conditions.
"I can't give you any sort of timeline, but I can say it won't be done in the next five days," added Arnold, consulting what appeared to be The Weather Channel's website via his BeOS-enabled webpad.
According to Be officials, possible future codenames include Siberia, Antarctica, Gnome, Sahara, Rochester, Yellow Knife and Weehawken, NJ.

New Stories
New stories by the author of Be Dope can be found at Segfault.org
e Villa Celebration
Did you know all of Be Dope's e Villa stories are available via one handy page?
Be Dope Merchandise


These remaining tshirts are sure to be a collector's item someday. Buy now.