8 October, 1999 1.55pm pdt | Tex Edition
Be Dope: Report From The Road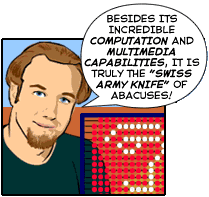 BE DOPE NEWS (BDN) Be Dope's Mike Popovic files a report from the road as he journeys through the Las Vegas desert towards Abacus World Expo. Check out the story for a report on the extreme multi-tasking capabilities of BeOS Abacus.
In this special illustrated story Popovic shows how the BeOS Abacus can save you from sunstroke, grill up a gourmet meal, fix a flat, navigate the desert, and finally convert to a tent after a long day's travel. The link above is not to be missed!
Assuming he decides to leave his tent, Mike Popovic will speak at AWE tonight (Fri, Oct 8, 1999 at 6pm pdt). Full details.

New Stories
New stories by the author of Be Dope can be found at Segfault.org
e Villa Celebration
Did you know all of Be Dope's e Villa stories are available via one handy page?
Be Dope Merchandise


These remaining tshirts are sure to be a collector's item someday. Buy now.