6 October, 1999 10.10am pdt | Deep Space Edition
Be Prepares For Worst-Case Y2K Scenario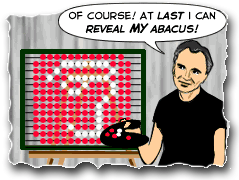 BE DOPE NEWS (BDN) In a case of "life imitates art" a team Be engineers are working on porting BeOS to even more platforms. Unlike its predecessors, this platform will have to pass the test of being functional even if a Y2K disaster leaves the world without electricity and wipes out the "computer" as we know it. Remarkably, how the geeks of the world might cope with such a situation has already been imagined and expertly illustrated in the online comic series "After Y2K!".
In After Y2K!, former computer geeks resort to re-inventing their favorite operating systems on the non-electricity dependent abacus. Be engineers admit this is one platform they have experimented with.
"The abacus has proved to be one of the more successful platforms we've experimented with," said Be kernel/bead engineer Brian Swetland. "[After Y2K! creator] Nitrozac has clearly done her homework in choosing the abacus for her post-Y2K OS platform."
The experimental BeOS Abacus makes use of pervasive multi-beading and extensive multi-threading. BeOS Abacus rejected older methods of bead manufacturing and designed beads from the ground up with the demands of the post-Y2K user in mind.
"Sure wood, glass or even plastic beads were sufficient to serve the needs of a Chinese shopkeeper in 1200 A.D.," explained Swetland. "But they simply cannot handle the intensive tasks of an OS gracefully."
Other platforms Be engineers are experimenting with include Tinker Toys, Legos, Etch-A-Sketch, Babbage engines and Colorforms.

New Stories
New stories by the author of Be Dope can be found at Segfault.org
e Villa Celebration
Did you know all of Be Dope's e Villa stories are available via one handy page?
Be Dope Merchandise


These remaining tshirts are sure to be a collector's item someday. Buy now.