1 October, 4.30pm pdt
BeOS Internet Appliance Serves Information, Cake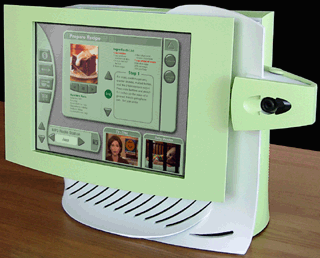 BE DOPE NEWS (BDN) A protoype kithen-centric BeOS internet appliance goes beyond giving recipes and can actually serve you chocolate cake. According to sources close to Be, Inc. the appliance not only offers access to content from the Internet, but can potentially replace many other appliances in your kitchen.
"Sure the IPAD (Internet Personal Access Device) offers convenient access to news, recipes, music, video and other useful online and local content," said our source, who visited a concept kitchen on the Be campus. "But there are several hidden features that turn this from an information appliance into an all-purpose one."
Reportedly, the appliance can be hooked into any number of devices created with LEGO Mindstorms, including a pair of robotic arms. These arms then can follow all the steps outlined in a recipe to prepare delicious meals and desserts. Other custom attachements eliminate the need for a separate blender, food processor or mixmaster.
Because the technology is so cool, the device can replace your refrigerator. Because the technology is so hot, the device can replace your microwave oven (you'll still need your coffee maker of course!).
"This is the first appliance that lets you plan a week's menu and have breakfast ready for you every morning and dinner ready when you come home from work. If you're lacking ingredients the IPAD connects with Webvan.com and arranges for a timely delivery."
When not being shown at special events or presentations, the prototype IPADs can be found preparing meals and streaming live video in local soup kitchens.

New Stories
New stories by the author of Be Dope can be found at Segfault.org
e Villa Celebration
Did you know all of Be Dope's e Villa stories are available via one handy page?
Be Dope Merchandise


These remaining tshirts are sure to be a collector's item someday. Buy now.