30 September, 1999 9.46pm pdt
Be Prepares Move To New Headquarters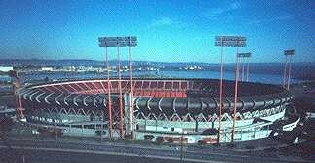 BE DOPE NEWS (BDN) Famed Candlestick Park closed its baseball career Thursday as the Los Angeles Dodgers beat the San Francisco Giants 9-4 on a balmy, sunny day. Candlestick Park begins its new life as Be, Inc. Corporate Headquarters next month, after a team of Be engineers complete rewiring it with fiber optic cables, video equipment, and a retractable opaque dome to guard against corporate espionage.
"We love our current location, but we have some projects that require ... a bit more space, let us say," say Be CTO Steve Sakoman.
While most of the seating will be converted to office and laboratory space, Be plans to keep some stadium seating intact to house press and others during product announcements and other special events.
Hot dog stands will be replaced with questionable but convenient chinese food.
While Menlo Park officials are sorry to see Be leave their town, some locals confess to being relieved.
"The explosions, the lasers, the helicoptors, the strange lights - it gets one a bit nervous after a while," said one Menlo Park resident.
Be will officially open their new offices on November 12, with a ceremonial monitor drop from the stadium roof.

New Stories
New stories by the author of Be Dope can be found at Segfault.org
e Villa Celebration
Did you know all of Be Dope's e Villa stories are available via one handy page?
Be Dope Merchandise


These remaining tshirts are sure to be a collector's item someday. Buy now.