14 September, 1999 5.15pm pdt
New BeOS Spellchecker Alters Neurons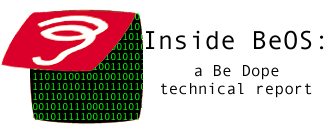 BE DOPE NEWS (BDN) A new system-wide spellchecker to be included with the next release of BeOS (codename: Maui) will not only correct your spelling in applications such as BeMail and StyledEdit, but will offer the option of permanently altering neuron patterns in your brain so you never spell the word incorrectly again.
According to an anonymous engineer inside Be, Inc., the desire was to go beyond the simple choices presented by spellcheckers for years and offer something that helped the BeOS user even when away from the computer.
Along with "Correct, Correct All, Skip, Skip All, Add" and other pedestrian spellchecker options, users will be presented with a button labeled "Alter Brain". When clicked, BeOS sends out signals known as BMessages (via the mouse and/or keyboard) which enter the user's brain and permanently alters neurons so the user will never misspell the word again.
"Not only does this benefit the user in non-computing environments, it also makes using BeOS more efficient since there will be no need to correct the errors the next time around," said our source.
"I could never remember to the 'I before E except after C' rule", said one beta tester. "But after just a few days of using the new BeOS spellchecker that doesn't matter anymore."
Work on a similar grammar checker, which would finally stop users from confusing "it's" with "its" and "their, there and they're" is in the works for the release following Maui (codename: Dolphin).

New Stories
New stories by the author of Be Dope can be found at Segfault.org
e Villa Celebration
Did you know all of Be Dope's e Villa stories are available via one handy page?
Be Dope Merchandise


These remaining tshirts are sure to be a collector's item someday. Buy now.