1 September, 1999 5.22pm pdt
BeOS Update Has Lowest Latency Ever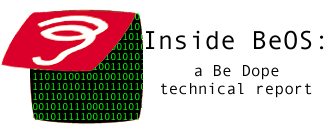 BE DOPE NEWS (BDN) One reason audio application developers love BeOS is due to its low "latency" factor. That is, it takes a sound very little time to travel from an input source through the BeOS and back to an output channel. This is good because musicians can use BeOS for real-time purposes. In the world of computer audio, latency is evil - rating right up there with Satan and reruns of My Mother the Car. However, reports are coming in that the BeOS 4.5.2 update has reduced latency to the point where sound is output before it is even played.
"Reducing latency to barely above the hardware level was a fantastic achievement and an amazing breakthough for anyone using audio and computers" said rock star Peter Gabriel, an avid BeOS advocate. "But I think they went a bit too far with this release."
Using what Be engineers refer to in-house as temporal auralkinesis shifting code, musicians are now surprised to find audio flowing through BeOS before they actually begin to play music.
"After all but eliminating latency at the OS level, we were going to tackle the hardware end of things," said Be audio engineer Doug Wright. "But our research discovered the greatest latency was in fact in the musicians themselves. It often takes them seconds or even minutes to decide what to play."
While some find the process unsettling, others have nothing but praise for the new feature.
"I used to waste hours every week figuring out chord progressions," said one studio musician. "Now by the time I break for morning coffee I can head home for the day."
The next version of BeOS (codename: Maui) is expected to incorporate this technology with that of RealPlayer, creating a streaming audio solution that not only bypasses net congestion, but will let BeOS users hear live concerts before they happen.

New Stories
New stories by the author of Be Dope can be found at Segfault.org
e Villa Celebration
Did you know all of Be Dope's e Villa stories are available via one handy page?
Be Dope Merchandise


These remaining tshirts are sure to be a collector's item someday. Buy now.