27 July, 1999 5.00pm pdt
Be Engineers Perform Emergency Source Code Check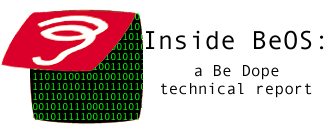 BE DOPE NEWS (BDN) Following a report by the alleged news site 32BitsOnline.com that BeOS was based on the BSD kernel, Be engineers called an emergency meeting to get to the truth of the matter. After extensively reviewing the BeOS source code, they came to the conclusion that they had, in fact, written it from the ground up.
"It's reassuring to know we didn't imagine the whole thing," said Be, Inc. engineer Dominic Giampaolo.
What remains unclear at press time is why 32BitsOnline.com would allow a story containing such blatantly false statements ever be published. In fact, close review of the article reveals several more statements that contradict facts that are easily found on the Be, Inc. website.
"Perhaps they don't have a web browser, email, the BeOS Bible or any other way to contact the outside world and check their story," speculated Giampaolo.
The article's author, Ronny Ko, defended his work.
"The motto of 32BitsOnline is 'There is more than one way to compute' and I think that extends to the area of reporting as well," explained Ko. "There is more than one way to write articles. For example there is the professional way. Then, there is my way. My way is a lot quicker."
Despite being assailed by annoyed BeOS users for the better part of the day, no corrections had been made to the article as Be Dope went to press.

New Stories
New stories by the author of Be Dope can be found at Segfault.org
e Villa Celebration
Did you know all of Be Dope's e Villa stories are available via one handy page?
Be Dope Merchandise


These remaining tshirts are sure to be a collector's item someday. Buy now.