16 July, 3.20pm pdt
Dems Use Moho To Animate Al Gore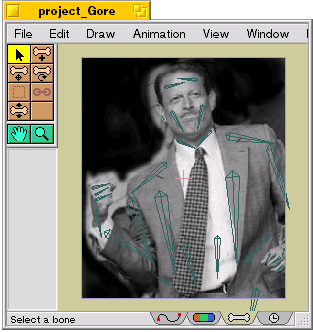 BE DOPE NEWS (BDN) Speaking on condition of anonymity, a source inside the White House revealed spin doctors are working overtime on a high-priority assignment: animating Al Gore. The project, often refferred to as Mission: Impossible, has recently experienced a major breakthrough, thanks to Moho - a revolutionary new animation tool for BeOS.
"Gore is of course famous for his so-called 'wooden' nature," said our source. "Our team has tried everything from acting lessons to yoga to accupuncture with little success. Now thanks to Moho it looks like we'll be able to infuse Gore with previously unknown levels of animation."
Moho is an extremely powerful "complete 2D cartoon animation system for BeOS" according to the Lost Marble website. For the Gore project, its most important tools are the manipulators for controlling skeletons.
"After seeing Moho in action we went to [Lost Marble founder] Mike Clifton and contracted him to produce a 'custom version' for us," explained our source. "This version has 3D capabilities which we spliced in with the BeOS neural interface already developed by other government agencies. New animation routines are imprinted directly into Gore's muscle memory as he sleeps."
Early focus group testing has been encouraging. In the latest tests, over 90% of the subjects rated Gore "more lifelike than Disneyworld animatronic robots".
"The progress is staggering," added our source.

New Stories
New stories by the author of Be Dope can be found at Segfault.org
e Villa Celebration
Did you know all of Be Dope's e Villa stories are available via one handy page?
Be Dope Merchandise


These remaining tshirts are sure to be a collector's item someday. Buy now.