24 June, 1999 5.33pm pdt
Be VP Demos New BeOS Security App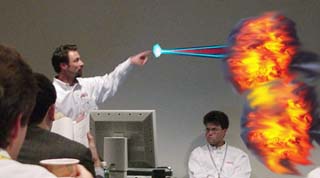 BE DOPE NEWS (BDN) Stunning onlookers and himself, Be VP of Developer Relations Tim Self today demonstrated a new BeOS security application during a press conference at PC Expo in New York City. Journalists gasped in shock as what appeared to be a death ray shot from Self's fingers and vaporized his unwitting and unfortunate demonstration partner, Rick Latman, president and CEO of Microworkz. Latman was present to introduce the iToaster, a new new $200 computer/Internet appliance that is powered by BeOS.
It was when Latman mentioned the iToaster ran on a "BeOS/Linux hybrid OS" that the so-called "death ray" shot from Self, thus making those the final words Latman would ever speak.
"There's a good reason that application is in the /expermental folder," explained Self. "While highly functional, there are some issues with the safety feature and the over-responsiveness of the app".
Self, who claims he was unaware the application was installed on the computer he was using, simply wished to point out to Latman that the iToaster ran purely on BeOS. However, when Self pointed towards Latman he accidentally activated the DeathRay application. This application harnessed the energy of the computer, as well as energy obtained by tapping into the electrical system of the Jacob K. Javitz Convention Center, transmitted out via the mouse and focused it using the nervous system of Self. Finally, it released the energy in an impressive display that had journalists abuzz.
"While the destruction of Latman is certainly a tragedy, I was glad I was on hand to see this exciting new use of the PC," said a PC Magazine reporter. "I especially was impressed by the multi-threaded nature of the application - you could see how one processor vaporized Latman's head while the other worked on his body, causing a beautifully symmetrical explosion, that if not for the unfortunate loss of human life, would have been perfect."
Self invited any journalists who were still confused by the "hybrid" remark to drop by the booth, where he would set them straight.
Microsoft lawyers used the incident as last-minute evidence in their antitrust trial, pointing out that now Microsoft was not the only OS manufacturer with a death ray.

New Stories
New stories by the author of Be Dope can be found at Segfault.org
e Villa Celebration
Did you know all of Be Dope's e Villa stories are available via one handy page?
Be Dope Merchandise


These remaining tshirts are sure to be a collector's item someday. Buy now.