4 June, 1999 1.32pm pdt
Secret BeOS Test Lab Revealed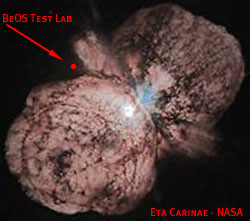 BE DOPE NEWS (BDN) The location of a secret BeOS test lab was revealed today as quality assurance (QA) testing of the soon-to-be-released version of the BeOS (Genki) kicked into high gear with visible results that could not be hidden from neighbors.
For weeks, scientist had been at a loss to describe the doubling and tripling of energy in Eta Carinae, a star about 7,500 light-years from Earth. Eta Carinae once was one of the brightest stars in the Southern night sky, but then it dimmed for decades.
"Occasionally something happens in astronomy that is so bewildering that it makes astronomers nervous," said Kris Davidson, a University of Minnesota astrophysicist. "This is weird. We don't understand."
Nervous astronomers worldwide breathed a collective sigh of relief earlier today, when it was revealed that the cause of the increased energy was output from a previously unknown Be, Inc. QA lab in orbit around Eta.
"Calm down everyone, we're just stress-testing Genki," said Be, Inc.'s Baron "Buzz" Arnold via videowormholephone at a press conference this morning. Arnold, who could barely be heard over the sound of a cacophony of media coming from the labs, went on to explain that the increased energy was simply the output of passing pure energy through the BeOS and altering it using the new Media Kit.
"Well, energy is media too," explained Arnold, "But most of this stuff is for the custom NASA version of the BeOS and won't be seen by regular consumers. Don't worry, we're all highly trained professionals here," Arnold added before cursing and rushing to a bank of computers.
The final version of Genki is expected back on Earth this month.

New Stories
New stories by the author of Be Dope can be found at Segfault.org
e Villa Celebration
Did you know all of Be Dope's e Villa stories are available via one handy page?
Be Dope Merchandise


These remaining tshirts are sure to be a collector's item someday. Buy now.