11 May, 1999 5.15pm pdt
BeOS Heart Of Sony's Robot Dog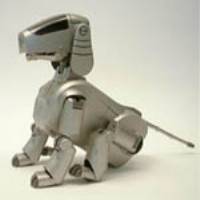 BE DOPE NEWS (BDN) The BeOS is the heart, soul and brains of AIBO, a fully interactive robotic dog introduced by Sony today. According to Sony engineers, the project was completely stalled until they approaced Be about using its operating system in the robot's CPU.
"We had some functionality, but the emotional components, for example, were a total disaster," said a Sony engineer. "With other operating systems he could become really territorial and demagnetize your hard drive. It ate several Furbies. Under Windows it somehow managed to pee on the carpet despite the fact it has no biological components. We're still trying to figure that one out."
AIBO (which stands for Artificial Intelligence, BeOS Operated) has built-in functions for feelings, instincts, learning, and growth. The pervasiveness of multi-threading in the BeOS let engineers design a system that could maintain a complex database that could handle tough engineering functions such as pattern recognition, voice recognition and movement while at the same time handling "soft" tasks such as expressing emotion and playing.
"It is the so-called 'soft' engineering that turns AIBO from yet another piece of hardware into a true companion," said a Be spokesperson.
Several AIBO prototypes have been spotted in and around Be's Menlo Park campus.
"Every day at about noon AIBO comes in to pick up several bags of food for delivery to Be," said the owner of a local Chinese food eatery. "He is always polite and is a generous tipper."
The BeOS' media heritage shines through in AIBO who will often sing when feeling happy.
AIBO has also been spotted helping people cross streets, chasing down purse-snatchers and rescuing Timmy from the well.

New Stories
New stories by the author of Be Dope can be found at Segfault.org
e Villa Celebration
Did you know all of Be Dope's e Villa stories are available via one handy page?
Be Dope Merchandise


These remaining tshirts are sure to be a collector's item someday. Buy now.